We're just 3 days away from the start of Ireland's 2014 Autumn International Series when Ireland will take on South Africa, Georgia and Australia. We've injuries across the park, some interesting selection calls and the ongoing saga of Brian O'Driscolls replacement on the cards. And with South Africa in particular hitting some really serious for of late and former Leinster coach Michael Cheika now in charge of the Australian side how are Ireland fixed to compete against 2 of the worlds best sides?
THE IRISH SQUAD
According to Gerry Thornley in the Irish Times Ireland have as many as 17 injuries going into the first Test this weekend. That in itself can put a real dampener on things. But things aren't really that bad when you break it down. If you look at the squad selected for Saturdays opener:
01. McGrath
02. Cronin
03. Ross
04. Toner
05. POC
06. POM
07. Henry
08. Heaslip
09. Murray
10. Sexton
11. Zebo
12. Henshaw
13. Payne
14. Bowe
15. R Kearney
16. Strauss
17. Kilcoyne
18. Ah You
19. McCarthy
20. Ruddock
21. Reddan
22. Madigan
23. Jones
Best hasn't recovered from his calf strain and while Darce was training today he hasn't been for most of the week due to a groin injury. The loss of Best is pretty major but overall it's a strong pack which is good. They are going to need to be aggressive and accurate to give their half-backs the time and space they need. Murray has been outstanding so far this season and with him partnering Sexton that really is a world class axis. The centre combination is where everyone will be looking with Joe having selected both Henshaw and Payne alongside each other. Apparently they ran this in training and Joe was pretty impressed with what he saw. Olding would have been a more obvious choice, and his form has been electric this season, but I for one am actually quite excited by the thought of seeing this brand new and unexpected combination. The back 3 can be pretty lethal if they can pick some good lines and get some good ball. Even the bench isn't a huge concern. The only possible weak spots being Ah You and Jones, although both have been showing good form this season the inclusion of Jones doesn't leave us with any recognised wing cover. That said we don't have any recognised inside centres in the squad either. There are some concerns about Ross' fitness, especially in light of some of Kiss' comments yesterday.
It will be interesting to see after this weekend if Darce is selected for the remaining 2 games as he seems to now be available. And if he is do we see Payne and Henshaw get a game each at 13? Best should also be back and will need to get game time against Georgia so that he is prepared for the Australia game. Other than that the Georgia game almost certainly going to be about blooding less experienced players or guys who have had limited game time recently we should get a good look at guys like Foley, Ruddock, Marmion and Jones. Come the Australia game we can expect to have looked at a few options and be that bit more settled so we should be able to have a real crack at the Aussies.
Seeing as we're missing 3 or 4 from what would be our first choice starting XV plus another 5 or 6 back up players, the fact that we can put out a competitive squad is already a huge jump from several years ago. And when you consider the Twickenham debacle in 2012 and the fact we have 2 THs injured that we can field Ross and Ah You shows we have really started to address the issue of depth in the national set-up. Just think we have players like Healy, Cronin, Moore, White, Ryan, Tuohy, Henderson, O'Brien, Jackson, Fitzgerald, Earls, Trimble, McFadden and Dave Kearney to come back into the mix. And with lads like Casey, Foley, O'Donnell, Ryan, Marmion, Olding, McCloskey and Leader looking to make an impression we're looking good in the medium to long term.
THE OPPOSITION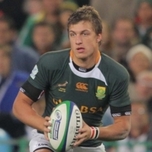 Today South Africa named their squad for Saturdays game and it is pretty much the same squad that beat New Zealand a month ago in what was a really excellent game of rugby. They took a couple of weeks off before going back into camp together so will be reasonably well rested while also being very battle hardened, which is a dangerous combination. They've built on their physicality in recent times, bringing a very dangerous back line to proceedings with their young out-half Pollard being a real stand-out this year. At just 20 years of age this kid seems to be the real deal. With the likes of Habana and le Roux outside him South Africa pose a really serious threat with ball in hand alongside their line-out and sheer physicality in everything they do. Their scrum is perhaps not as strong as it once was so this could be an area Ireland look to exploit. And Victor Matfield has again been singing Paul O'Connell's praises so with any luck we can cause them some serious problems a line-out time too. With the likes of Toner, O'Connell, O'Mahoney and Heaslip in the line we have some good operators who should hopefully upset the Bok set piece. Ireland will need to be incredibly accurate in everything they do against the Boks as they have been together uninterrupted for the best part of 3 months and Ireland are just beginning their international season.
I won't pretend to know anything about Georgia beyond the fact that they have a big pack with the likes of Zirakashvili (Clermont) and Gorgodze (Toulon), although Gorgodze is currently injured. Most of their pack have been picked up by French or English sides, but their back line predominantly play in their domestic league. While most of us will remember the 2007 encounter (despite wanting desperately to forget it) Georgia have never beaten Ireland and there's nothing to suggest they have the ability to this time around either.
The Australians are in many ways the unknown package. They've just undergone some serious upheaval with the Beale incident and the resignation of coach Ewan McKenzie. Former Leinster coach Michael Cheika has taken over but he's only had the one game in charge so far against the Barbarians. It will be interesting to see how they go against Wales this weekend. They had really turned a corner since the Lions tour and if Cheika can keep that going they will be tough opposition. Unlike South Africa they were unable to beat New Zealand in the Rugby Championship and they were beaten by Argentina, which was the Pumas first win in the competition. But this belies the quality in the squad and if Cheika can pull the squad together in the wake of the scandals they could cause Ireland plenty of problems.
CONCLUSION
Ireland's depth is being really tested at the moment, and while it is true that we are in much better health in that regard than ever before this autumn series will show us just where that depth lies in terms of quality. While we have a good starting XV taking the field against South Africa on Saturday our bench isn't at the level that the Boks bench is. Given the poor conditions forecast I can see Ireland keeping the scoreline tight for the first 60 minutes, but I'd expect the Boks to pull away in the final quarter unless Ireland can get on the scoreboard early. The Georgia game should be a foregone conclusion. But Ireland need to win at least one of the big two games. And that game is more than likely going to have to be the Australia game. Ireland will have 2 games behind them at that stage and should be hitting some form by then. They should have a few more players to choose from on the returning Best and D'Arcy so anything other than 2 wins will be very disappointing for the players, coaches and the fans. And with any luck we'll be closer to solving our midfield conundrum as well.