A big issue for Leinster last season was their performances in the second half of games. Numerous times they came away from contests having scored very little, or even not at all, after the break. Sadly the game on Saturday saw something similar happen. Leinster scored 19 of their 25 points in the first half, managing only 2 penalties in the second half. As results go it was very disappointing to come away from the game with nothing. However given the relative strengths of the 2 squads that were named many Leinster fans believed that the Boys in Blue would be doing well to get the LBP anyway. A good performance and no injuries were the minimum requirements from the game and anything else was deemed an added extra.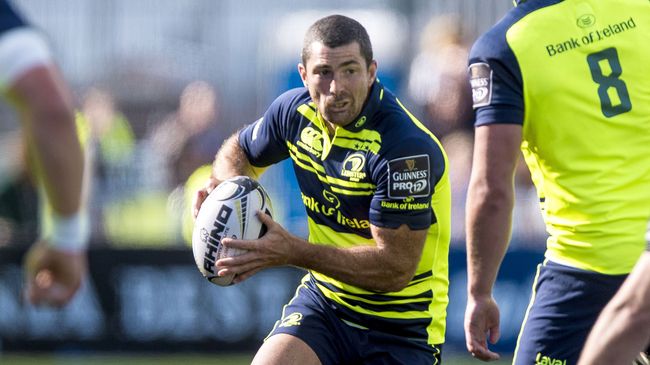 Unfortunately Leinsters first try scorer, Rob Kearney, did pick up an injury to his knee and will be missing for the next few weeks at least. But on a positive note the performance was one of the most encouraging performances from Leinster in these last few seasons. Ultimately it was a contest of 2 fairly even sides for the first 70 minutes, which was reflected by the 26-25 scoreline. Both teams were given opportunities by the other. Glasgow lost a man to the bin for 10 minutes and Leinster got 2 tries. Leinster overplayed somewhat in their own half for a period of about 10 minutes and Glasgow got 2 tries. Both teams had purple patches which saw them get squeezed into touch before being able to ground the ball. And both teams created scores throughout to ensure that they were all but level with 10 to go.
And it was in those last 10 minutes when Glasgow showed their class with the score that cruelly denied Leinster the LBP. A really well worked move off a scrum that targeted a bit of inexperience in the Leinster midfield was the decisive factor in the game. But that it took over 70 minutes for a near full strength Glasgow side (who are a class outfit) to secure the game at home against a Leinster side missing around a dozen players is a real testament to the way in which the Leinster players performed on the day. The attacking game that we spoke about after the pre-season games is starting to take shape and the defence at times was very aggressive. Numerous times Glasgows attacking line was driven back or passes were made under such pressure that they were going into touch.
From an attacking perspective Joey Carbery ran the show wonderfully from 10, in the first half particularly. He played very flat and had options each time he took the ball on. Jordi Murphy ran some lovely lines off his 10 which saw him make a few very good breaks, one of which led to Leinsters first try. Carbery had wider options like Noel Reid, often had inside runners like Dan Leavy (who had a very strong performance at 6) or the option to go himself. All these options made it difficult for the Glasgow defenders as it forced them to make decisions. This had probably been our single biggest complaint about Leinster over the last few seasons. They'd been incredibly lateral, and hence predictable. At the weekend they were having a go at the Glasgow line close in to rucks, in midfield and out wide. Throw in some good decoy running lines from the likes of Ringrose as well as an eagerness to offload and Leinster were creating gaps and breaks in what was a very satisfying first half.
Unfortunately the second half saw a few issues exposed. Leinster started off well putting some daylight between themselves and Glasgow with a Joey Carbery penalty. And they even created a few opportunities as well. But as the game wore on, as Glasgow adapted and as the guys started to tire some of the old habits crept back in. Leinster started getting a bit more lateral and predictable. Their defence held firm though and seemed to have Glasgow well managed. But when 10 points clear away from home to one of the best sides in the league you need to be a bit more pragmatic when in your own half, and particularly your own 22. During that third quarter Leinster needed to play territory a little more and instead they looked to attack from inside their own 22. The move was on and a line break was there to be made if it came off, but Carbery forced the pass somewhat and Rob Kearney ran an arcing line away from it opening the door for Tommy Seymour to run in unopposed. While on one hand you want to see that kind of ambition from Leinster, on the other you want to see some smart rugby being played too. Glasgow were back in the game.
Minutes later Leinster tried to run it again from their own half and a dropped pass in midfield gave Seymour another bite at the cherry. And with the form that this guy is in at the moment you just can't give him chances like that. He saw McCarthy was upright and wrong footed and he weaved his way past the big forward, turned on the gas and was in under the posts again. Just like the previous try Leinster would have probably been better served exiting their half and trusting their defence. Leinster did manage to get another 3 on the board, but with 6 minutes to go Glasgow sealed the result with a 4th Seymour try. And his third one under the sticks, guaranteeing all 7 points from each.
That a predominantly 2nd/3rd string Leinster side remained so competitive with what was predominantly a 1st string Glasgow side in Glasgow right up until the last few minutes is very encouraging. In all reality Leinster deserved a LBP from the game and it was a bit of a kicker that they were just the 1 point away from it. But the attack looks to be coming on really well and the defence outside of the broken field stuff was very strong throughout. That Leinster fell back into old habits a bit in the second half is to be expected. Fatigue will do that and until this new game plan becomes habit (which they say takes 6-8 weeks, and this was week 5) this will happen to some extent. Not all sides will be as well able to exploit that as Glasgow were though, and with the internationals returning back into the fold this week Leinsters match day squads will only get stronger. Young guys like Carbery will learn from the game as well and Leinster will be better for it.
Looking ahead to the rest of the season, if Leinster can build on the performance we saw on Saturday then we could be in for a very enjoyable season.